SLF-Lancaster Chemistry Competition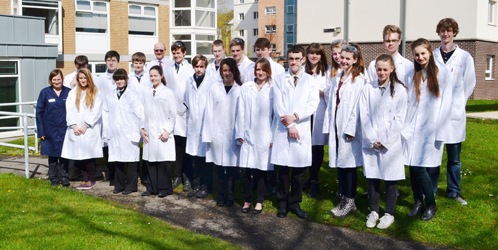 Earlier this week, sixth form students from across the South Lakes area visited the Chemistry Department at Lancaster University, to compete against each other in the inaugural South Lakes Federation-Lancaster Chemistry Competition.
John Ince, SLF Science Network Lead, said "This was a perfect experience of a day on campus working continually on totally engaging and relevant lab work. One student was particularly was really taken with the morning identification task because he enjoyed the intellectual challenge of interpreting the results of multiple diverse analytical techniques, and they all enjoyed the link between theory and practical using the most up to date equipment."
Teams of four students were tasked with identifying unknown chemical compounds using a variety of analytical and spectroscopic techniques. Prior to the day, the teams had worked together to produce posters about different molecules that play a significant role in our lives.
Project lead, Dr Jane Taylor, said "Our aim, through RCUK-funded events such as this Chemistry competition, is for students from the South Lakes to gain first-hand experience of a research environment. We hope they will be inspired to become part of the next generation of world leading researchers".
Rachel Platel from Chemistry said "This event was a great opportunity for us to engage with sixth form students across the South Lakes area. I was very impressed by the attitude of the students and their hardworking approach, many of whom were using techniques for the first time. This is something we will definitely be seeking to repeat annually."